"I saw a slug on my walk this morning, LittleMan.  Do you think he knows Jabba the Hutt?"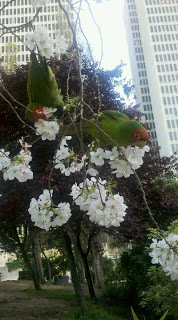 "Don't be silly, Mommy!  There are no big slugs like Jabba the Hutt in this neighborhood.  Jabba lives on Tatooine.  We live on a planet called San Francisco."
Oh, LittleMan, you have no idea:
Long long ago, in a far away galaxy, there was a tiny, shiny planet called San Francisco.  Known throughout space as the last refuge of liberals, vegans, hippies, gays, and tech junkies, for the first decades of the new Millennium, the Planet San Francisco had been encased in a shimmering housing bubble, the product of Twitter and Facebook, Google and Yahoo! slowly strengthening their grips on the local economy.  Rumor had it, the city had become a reverse-bedroom-community of sorts, a place to sleep for people who worked all day in the arid office parks south of the airport.  Yet this was only part of the story.  


In truth, it was a planet of contrasts: mid-Market office towers gleaming with new internet money, towering over some of the country's most disenfranchised and forgotten homeless camps;effete Nob Hill ladies with fluffy helmets of silver hair dining next to perennially denim-clad hipsters in the finest restaurants; fourth-generation families cultivating succulent gardens out in the foggy Sunset, while in South Beach young mamas descended elevators and walked the Embarcadero in an endless train of black Bugaboos.


15 stories above these streets there lived a little boy, a little girl, and their parents in an 850-square-foot, two-bedroom/one-bath apartment, desirable for its view of the Bay Bridge and its Southern exposure, notable for its atomic-orange couch (if not for its quickly-aging wall-to-wall carpet).  


This is a story about their home.
I was sitting on the rug before circle time the other day with LittleMan and his classmate.  The two were discussing an upcoming weekend trip to Bear Valley.  "My cabin, in Bear Valley…" started LittleMan's friend breathlessly.
"I'm GOING to Bear Valley!" shrieked LittleMan.
"I'll be there too!" shouted his friend (obviously).  "And you can come to my cabin…and my cabin…It has an UPSTAIRS and a DOWNSTAIRS."
"That sounds like a very, very big house indeed!" I replied.  He flushed with pride.
"Tahoe has an upstairs and a downstairs too!" screamed LittleMan, delirious at the thought.
And it occurred to me: We all live in apartments.  Single-story apartments.   Any house with an upstairs AND a downstairs is, like, a castle.  Point of fact: LittleMan actually believes my parents' two-level house in Tahoe is called Tahoe — like Downton, or Tara.  Not house, but a manse.  A house with a name.
I went out for drinks last month with some other women, moms I've only recently met, and we were all sort of getting to know each other and talking about what drew us to this particular, densely-populated quadrant of the Planet San Francisco.  One woman recalled her first North Beach apartment, where she and her husband and all his Burning Man kit shared 450 square feet.
For two years.
That, my friends, is love.  And maybe that's what draws us all to this storied, hilly neighborhood with its fire-nozzle tower on a hill and its proximity to the Bay.  Romance.  That's what shackles us here even though on some level we know we should probably move somewhere more practical where you don't risk your stroller rolling down four of the world's steepest hills when you step out the door.  But I wouldn't live two blocks from the only authentic Ligurian bakery in California if I moved!  I wouldn't have this VIEW!  My kid wouldn't open a travel or food magazine on any given day and cry out "Mommy, look!  We LIVE there!"
We sat in the covered patio of a dark bar on Grant Avenue at dusk, five of us, having wandered there after dinner on the first warmish evening of Spring.  We shared stories of friends, the ones who had moved.  About the SPACE they have now.  About how much farther money goes, out there in the 'burbs.  Some people dream of a walk-in closet or his 'n' hers sinks or a romper room or a man cave.  Some people dream of pools in the backyard and two-car parking and quiet, tree-lined streets.  Some people dream of custom kitchens looking out onto the cul-de-sac, of great public schools, of wide, freshly-cut soccer fields.
"I don't know.  All I want is a half-bath," I offered. In other words, I dream of a quiet, five-minute shower on a weekday morning without two children using the potty and brushing their teeth and trying to run away from my husband as he attempts to comb out their bedhead, all at the same time.
Another mom laughed drily.  "It's funny, isn't it?" she remarked.  "I'd like an easier way to get my kids and the groceries up Telegraph Hill.  I thought about one of those motorized bikes with a standing basket on the back, but I worried the kids would fall out, and anyway I'm not sure the engine could handle it."
After our first rain-soaked soccer game in Golden Gate Park last weekend (Pre-K soccer being a post for another day), LittleMan and I went to a pizza lunch with some of his buddies and their families, one of which has just made The Move out of the city.  Their new house has a yard, which is a first, and the mom told us that the kids call it "the park," as in "Mom, is it okay if we go and play in the park for a while?"  She shrugged and smiled.  "If that's what they think, I'll take it!"
The rest of us laughed and shook our heads: oh, these city kids!, that oft-repeated phrase equally loaded with pride and remorse, the nagging question implied.  Am I depriving them of something?  Never mind the morning we had just spent on a grassy field with a zillion other 5-year-olds, the mud on their cleats, the damp hair smelling of outside; never mind that we had spent Easter Sunday chasing the little waves  and digging in the fine, dark sand at Aquatic Park; never mind that, actually, we do have a park behind our house.
Because granted, it's an elevator ride, two heavy doors and at least one scary intersection away.  It's not a yard, it's not the same.
But still, but still…
Life is different on this Planet, surely.  And we love it.
We usually spend Superbowl Sunday in Oakland or Marin, in homes with Weber grills out back and wide, empty streets where footballs can be casually tossed during commercial breaks.  This year, however, the 49ers went to the dance and my husband insisted that we would host the game, right here in our team's home city, in San Francisco, dammit.  We re-arranged our livingroom.  We bought a new TV.  Our friends gamely made the drive and dumped their savings into the parking meters (on a Sunday, oh cruel city government!) and we served gumbo from the slow cooker.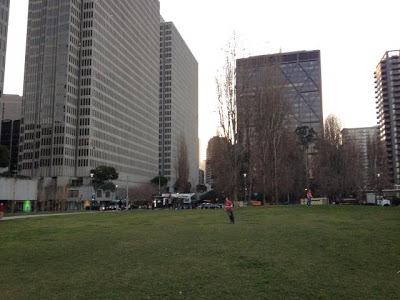 At halftime, deflated at the score, the menfolk fled to Ferry Park and there, in the shadow of Embarcadero Center with all the wild parrots squawking overhead, they played touch football.  We watched them from the deck until the kids grew bored and dragged scooters and bikes into the hallway and rode up and down in their sock feet while the moms took turns watching Beyonce in the livingroom.  My tiny, well-preserved South African neighbor peeked out her door and said enthusiastically, "If you ask me, the children should be doing this every day!  This is just wonderful!"
Not long after, the Niners lost and the crowds shuffled home.  As my husband attempted to calm the kids down, I cleaned up the paper plates and poured a last glass of wine and wandered onto the deck, the park below now dark and empty.
The housing bubble is real.  The half-bath remains a far-away dream.  But as my children's squeals and splashes echoed off the bath tiles that Sunday night, I gazed at the Bay Lights Project, hummed "Single Ladies," and did a little Beyonce sashay.
Long live the Planet San Francisco.