There is one thing my children Will Not Do.
(There are 10,001 things my children Will Not Do.  But anyway.)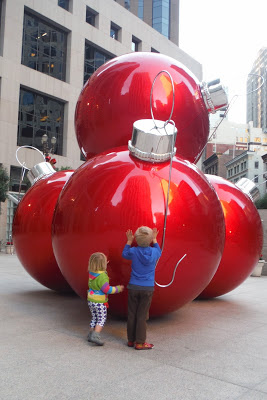 There is one thing my children Will Not Do that my husband and I desperately wish they would, and that is Pose for the Damn Christmas Card, Dammit!
Every year it's the same thing.  We gussy them up and we go to the hotel lobby or the majestic downtown office building with the epic tree or the off-the-hook elves-in-classic-cars display and we let them run around a bit.
The photo session commences: We cajole.  We plead.  We clap and dance around and wave our hands over our heads and shout "Say CHEESE!" "Say SANTA!" "Think about PRESENTS!"
Gradually, as the picture fails to materialize, we become frustrated:
"Just LOOK at your daddy for five seconds for God's sake!"
"STOP MOVING!"
"Put your tongue back in your mouth!"
"GET YOUR HANDS OUT OF YOUR MOUTH/PANTS/EARS!"
"Smile normally!  Can't you just please please please just look normal?"
And then we remember that yelling at your crazy kids to be normal isn't supportive, modern-day, Sears-approved parenting, so we try to bring it back to the positive:
"Anyone who can stand still and smile long enough for a picture is getting a treat!"  (Bribery.  That's approved, right?)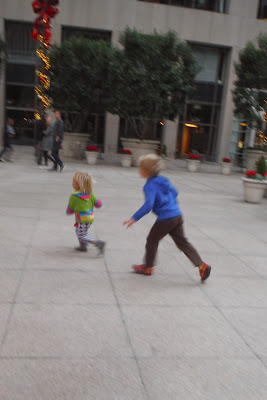 But this backfires:
At the mention of the word, Babygirl charges the camera, arms outstretched: "I wanna treat!"
LittleMan hollers: "Wait, Babygirl, we have to take a PICTURE!" and for once, he poses and smiles.
But he is alone.  Because Babygirl has gone boneless on the lobby floor, where she wails for a treat and my husband and I are like, "No!  No treats for either of you!  This is ridiculous!  It's ONE TIME we ask you to take a picture and you WON'T do it!  Why?"
And then they run away.  And we have to follow them out because people are staring.
Ho. Ho. Ho.
Yes, the season of Advent is upon is, and with it the often wondrous, occasionally manic energy that pervades our home.  For the second year in a row, we spoiled the kids a little with Lego Advent calendars, and for a second year we rue that decision each morning at 5:45 am when the thumping begins as our children wait (and wait…and wait…and wait) for the Teach Me Time clock to give them the "go!" sign.  The lights on the Embarcadero buildings are lit and the tree purchase has been scheduled; the holiday CDs are in rotation and Mickey's Twice Upon a Christmas airs on repeat after school; I have anxiety about how little time is left for me to procure presents/cook festive potluck dishes/find silver shoes/get in the spirit, even as I focus on enjoying the dark, cozy evenings and plot a schedule for all the Things I Love to do at Christmastime.
But first: the Christmas Card.  Later that night, after bedtime, we fire up the old iMac and hook up the camera for the Great Holiday Download.  The snaps flick across the screen.  The camera memory card is totally full of blurry, non-posed images.  "There's always tomorrow," we remind ourselves as we wait.  "Maybe we'll get a good one from the Christmas tree lot.  Maybe we'll get a good one at Deck the Hall."
Maybe.
Someone please pour me a glass of eggnog to weep in.
For the next hour or so we crop, rotate, stare.  We catch ourselves laughing at these two goobers, with their tongues sticking out and their hair sticking every which way and their hands and feet never, ever stopping.  We laugh at our hopeless attempts to put them in party clothes only to get photos with red-rimmed eyes and grumpy frowns and mouths full of cookie.
And then we spot it.  Hiding behind a lamppost, going down the slide, peeking out from under an ornament: the perfect smiles.  The "them in a nutshell" expressions.
Zoom above the blur of feet.  Try to crop Mommy's scowling face out of the edge of the shot.  Drop it into the Christmas Card template and adjust again.
Ours will never (never never) be the card where the kids are in church clothes and smiling at the camera.  Our daughter's pants and sweater will be mismatched and our son will have his mouth open mid-sentence and they might be a little blurry.  But that's them.  That's us.  Chances are, that's you, too, even if you can pull off the 15-second photo better than we can.  That's life, isn't it?  23.75 hours of crazy for every 15 seconds of perfect.
For anyone who has been following this blog over the years, and for anyone who's just stopping by: I wish you joy this season, and whatever peace you can muster.  I wish you the perspective to immerse yourself in the wondrous moments, and the humor to muddle through the manic ones.  I wish you a minimum of excitement-induced tantrums and a maximum of mash-up renditions of Olive the Red-Nosed Reindeer.  I wish you full cups of coffee, and fuller cups of cheer (in whatever form that takes).
Our card is in the mail.