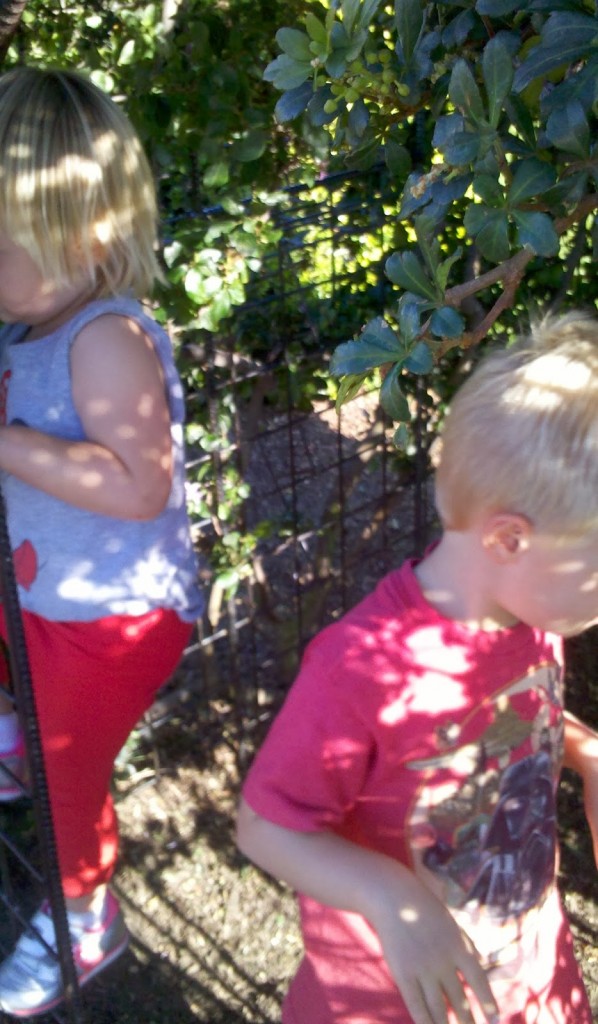 We wear red for the Lunar New Year.  LittleMan's class stages a parade in the school gymnasium.  It is a wise system: the littlest children wear the dragon, so it cannot frighten them.  (LittleMan is too tall, so he follows and bangs a tambourine.)
All weekend long the firecrackers snap and pop on the streets near our apartment, Grant Avenue being just a few blocks up the hill.  There are random outbreaks of live music.  We do not go to the parade itself (Mommy is slightly agoraphobic like that), but the city is alive with it, this midwinter celebration of beginnings and endings and good fortune just around the corner.
At some point in the weekend, after a morning swim lesson, I find myself driving the kids East to visit old friends who have decamped (through the tunnel, as we say).  My friend has packed a picnic and I follow her on the short drive to a community park, promising ice cream on the way home.  On a shady bench with a vantage of both the big and little kids' play areas, we sit and catch up, and my friend introduces me to people from her new life who wander by, this being "the place" in town to ride bikes and play basketball and — apparently — gather on a sunny day.
One woman lingers a bit.  She and I turn out to be loosely connected through other distant channels and we play a bit of the Name Game and Have You Heard From.  The conversation inevitably winds around to the fact that I still live in the city, bringing about the usual line of questioning and commentary.  It is familiar territory.  I could never live in the city with kids.  It's so cramped.  All that traffic!  Nowhere to play.  Someone will convince you.  You'll be here eventually.
Wide gestures indicating the space and the fresh air.  Knowing laughter.
I give a noncommittal shrug.  I have a good life, I say.  We are really happy with our school and the parks, I say.  My husband's commute is so easy, I say.
Never say never, I suppose.
Later we take the kids back to my friend's house to play.  The lofty interiors are still in the process of being filled a year after the move — such are the perils of moving from tiny downtown apartments to ranch-style homes in the suburbs — but it is all the better for the children, five between us and reunited at last, who careen from room to room and in and out, up the trees and bunkbeds and around the yard on scooters.  As the drought continues to threaten California we make the most of 70-degree afternoons in February, clinking cold glasses of wine on the patio.  It is a good life.  I can see it.
Driving West towards the fog and the skyline, LittleMan sighs that he wishes he had a backyard and I sigh too, wondering quietly if we are, in fact, suffering from some kind of temporary insanity, if we will wake up someday and say What were we thinking?  Screw the noise and the cars and the one shared closet in the second bedroom!  Show me the his-n-hers sinks, and make it quick!


Never say never, I suppose.
Our apartment building is actually part of a giant network of residential and commercial high-rises, all connected to one another by a third-level public promenade, which we refer to as The Plaza.  The Plaza allows us to walk an area covering nine square city blocks without ever crossing a street, which has been an enormous blessing for our little family.  The Plaza, with its fountains and public works of art and office-park landscaping, its nooks and benches and room to ride a bike, its above-the-frayness, has functioned as a sort of de facto backyard for most of LittleMan's life (and of course all of Babygirl's).
They run on The Plaza back home that evening, en route to dinner at a nearby restaurant, my husband "chasing" them with a remote-control car and me limping several paces behind on my bad foot.  As we cruise across Maritime Plaza, the Lunar New Year drumming gets louder, and suddenly LittleMan starts shouting and my husband shepherds the kids across a footbridge where they have a clear view of the street below.
I catch the neon green tail of the dragon turning down Battery as LittleMan runs back to me, breathless, "Mommy!  Mommy!  Did you see it?"  But there are more, making their slow way down Clay Street.  We descend from The Plaza and sit at a window table at the restaurant and the procession is unceasing: red, pink, gold dragons, heads bobbing slowly, the dancers tired from a long day.  Musicians carrying gleaming instruments, quiet now but no less colorful.  Pageant schoolgirls in so much make-up and sequins.  Ribbons.  Firecrackers.  Babygirl stands in her booster seat, pointing and offering her own astonished play-by-play.  Other diners indulge her wonder.
As the drought continues to threaten California we make the most of dry evenings in February, walking home slowly across The Plaza, illuminated now by nine blocks' worth of windows.  The New Year has begun, again.  The cherry blossoms will lure the wild parrots down lower in the weeks to come.  Tomorrow we'll go swimming again, and make a quick trip to the Ferry Building for fish.  Midday, my husband will take LittleMan to the tiny baseball diamond next to AT&T Park to practice throwing, and I will walk with Babygirl along the water and out Mission Creek, hoping for a nap.  Along the way, we may run into people we know, out running or playing in the park or hitting Safeway for the Sunday stock-up.
Are we so different, you and I?
It is a good life.  I can see it.