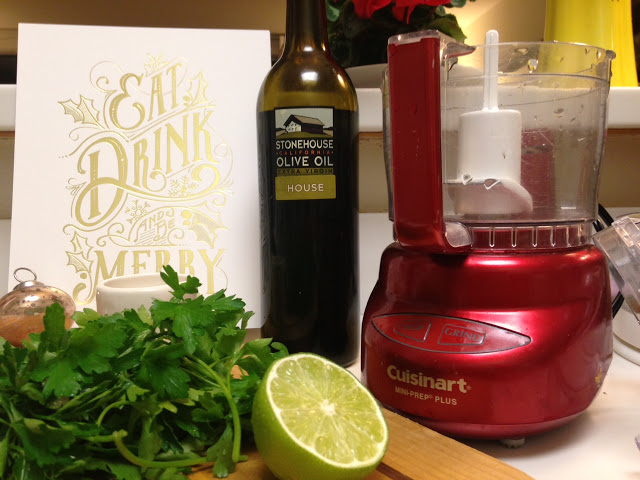 I love my Cusinart Mini-Prep.  It's red.
It's been a long time since I posted recipes on Less on the Floor, which is something I used to do quite a bit.  But if I see one more recipe for leftover turkey hash I'm going to start crying, so I feel compelled to counter the "creative use of leftovers" trend with some utterly non-holiday fare.
This week or two is kind of a funny tween-time between Thanksgiving and the Mad Christmas Rush.  It's become part of the rhythm of the year, then, that my husband and I tend to hunker down in early December, to regroup as a family and maintain some semblance of routine between the school breaks and the late holiday-party nights.  That means light, easy meals whenever we can manage it.
On Monday my husband had to work late and I took the opportunity to prep for the week with a big array of salad dressings and some make-ahead sides.  I ordered dinner for the kids and put on a movie in the livingroom, and with occasional help from Babygirl I puttered away.
A few summers ago I got kind of ridiculously obsessed with mason jars, and one of my weird little pleasures when I have free time is to fill them with various dressings and easy pickles to throw together.  (I do this a lot when we are in Tahoe in the summer since I eat salads for lunch every day.)  Fortunately, my husband recently got on the Salads-for-Dinner Train with me (it only took 13 years of convincing) so at least once a week when the cupboards are looking a little bare I kind of hack it out: greens tossed with either grains (see below) or roasted chickpeas, some goat cheese, and a fun dressing.
Most of my salad inspiration comes from Gwyneth Paltrow's It's All Good (I know…but she knows her salad dressings!) and most of the recipes have the added benefit of using up any herbs in my fridge that have gone a bit wilty.  (I will NEVER understand why parsley must be sold in such big bunches.  Like, who eats that much parsley?)  I am also a huge fan of the Sprouted Kitchen, and all things Heidi Swanson.
Okay, but enough backstory.  Here is what I made:
Because it's winter, I also hacked up a butternut squash for roasting, and this weekend I think I might go nuts and make
this GORGEOUS veggie dish
I saw on Domino Magazine's Instagram feed.
Wherever you are this week after Thanksgiving, I hope you are full of good food and great blessings.  My mason jars are stocked and I can't help feeling a little silly at how satisfying this is…but sometimes it's just the little weeknight pleasures that make the world seem right.