If there is one topic my mom-friends and I can talk about ad nauseum it's what to make for dinner.  And how to find the time: time to shop, time to plan, time to cook.  When the whole family rolls home at 6pm (from work, from after-school care, from soccer practice and swim lessons and tutors and therapy and any of the other slew of things we all do in a day — I mean, how do we do it??)…then there is the dinner to think of.  Most of my friends are avid home cooks, like me, and so we recipe-swap and share Pinterest boards and anything — ANYTHING — to make the process of feeding our families a little simpler, healthier…not to mention fresh and fun.
My secret (which is not a secret; I talk about it ALL. THE. TIME.) is meal-planning.  Of all the compulsions I've developed since having children (soooo many), meal-planning is probably the most productive one.  On Sunday mornings, while the kids watch cartoons and my husband does his weekly organizational blitz around the apartment, I sit at the table with a notebook and a pile of whichever cookbooks or magazines I've been neglecting.  I plan five weeknight meals, and make shopping list for all five of them.  Some are easy, some are involved; some are vegan, some are burgers; some we don't want when the time comes, so I freeze the ingredients and make pasta instead, or re-purpose somehow.
Planning this way, we always eat what we buy and we don't fall into the "nothing in the house" trap.  We also don't get bored, because I really do try to mix it up every week…I mean, we have staples, of course, but after cooking dinners at home about 85% of nights for the past seven years, I really do make an effort to mix it up so we don't burst into tears staring at one more chicken breast and salad oh please make it stop.
This week I'm going to be cooking from one of my FAVORITE books of the last year, Sheet Pan Suppers by Molly Gilbert.  I wrote a review of this book for postmodyrn last April (read it here), and seriously?  This book is SO GREAT because it's literally one-pan cooking for a whole family…and also it's just fun to read.  (Also: Chicken Jerome.  So good.)  Molly Gilbert is a blogger herself and so relatable, and I'm delighted to announce that Sheet Pan Suppers and Workman Publishing have offered to do the first-ever Less on the Floor GIVEAWAY: Range Kleen sheetpans for two lucky readers!  You can enter at the bottom of this post.
Extra fun?  Workman & BookBub are partnering on a special this Saturday, February 27th, offering the e-book of Sheet Pan Suppers for $1.99.  I highly recommend you get in on this action on the device of your choice (Kindle, iPad, etc.) and plan your own #sheetpanweek.
Happy Cooking!
Quick Chicken & Baby Broccoli with Spicy Peanut Sauce
Serves 4
Buy thin-cut chicken breasts or cutlets at some grocery stores, or   easily make your own by slicing a regular chicken breast in half horizontally to create two thin-cut pieces.
Olive oil cooking spray (optional)
1 tablespoon packed dark brown sugar
1/4 cup plus 2 tablespoons creamy peanut butter (commercial or natural)
1 tablespoon toasted sesame oil
1/4 cup low-sodium soy sauce
1 tablespoon sriracha sauce
1 tablespoon rice vinegar
1/4 cup warm water
1 tablespoon freshly squeezed lime juice
2 bunches broccolini (1 pound total)
4 to 6 thin-cut boneless, skinless chicken breasts or cutlets (1 to 1 1/2 pounds total)
Let's cook:
Preheat the oven to broil, with a rack 4 inches from the heat. Line a sheet pan with aluminum foil or mist it with cooking spray.
2. Whisk together the brown sugar, peanut butter, sesame oil, soy sauce, sriracha, vinegar, water, and lime juice in a medium-size bowl until smooth. Set aside 1/4 cup of the peanut sauce for serving.
3. Rub the broccolini and chicken with the remaining peanut sauce to thickly coat, and arrange them in a tight single layer on the prepared pan. Broil, keeping a close eye on
the pan to prevent burning, and flipping the chicken halfway through, until the chicken is just cooked through, the broccolini is well charred, and the sauce is bubbly and deeply browned, 10 to 12 minutes.
4. Serve the chicken and broccolini hot from the oven with the reserved dipping sauce alongside.
Win a New Sheet Pan!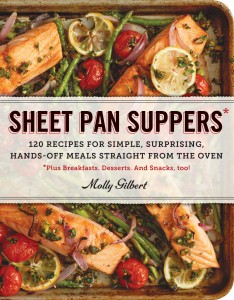 All images and recipe courtesy of SHEET PAN SUPPERS / Workman Publishing.  Thanks to Workman for reaching out and partnering on this giveaway.