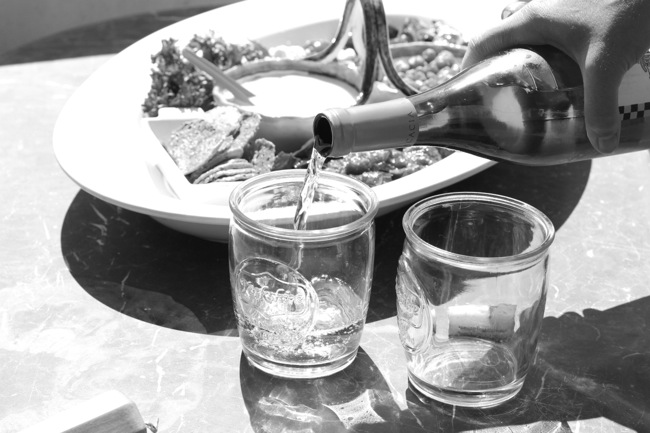 One of the random things I pride myself on is the ability to pull together an impromptu cocktail party on no notice.
To be clear, this happens basically never, because all my friends have kids under 8, we're scattered all over the Bay Area, we work, and we aren't exactly a spontaneous bunch.  Still, IF the opportunity were to arise to do something festive and unplanned, I would hate to miss out because I was unprepared.  That would just be a damn shame.
Anyway, it's Friday, and after a downer of a week, I'm holding tight to happy times, dedicating this Recipe Roundup to an impromptu summer cocktail party anyone can host (without a cheese plate in sight).  Cheers, friends.
What you need:
a freezer
a couple of bottles of wine
a well-stocked pantry (e.g. crackers, a jar of olives or other savory thing from Trader Joe's, canned garbanzo beans,  dry salami)
some kind of fresh fruit
platters, tumblers and/or mason jars
some kind of fresh herb or greens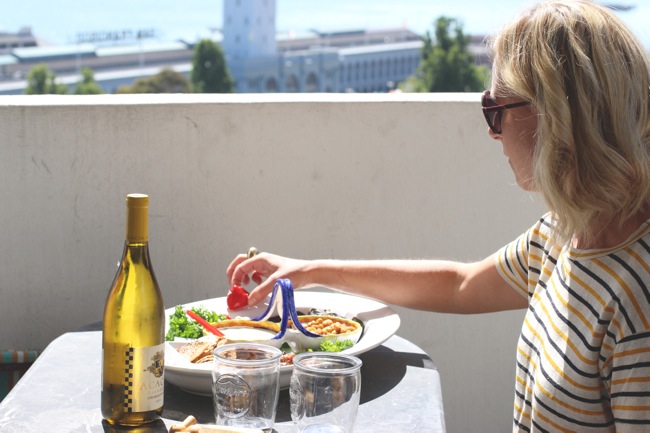 #1: Put a Vat of Wine in your Freezer (trust me)
In June the kids and I spent a week in Tahoe with my girl Lauren and her twin boys.  The week before, I came upon this recipe for Frose over on Ramshackle Glam and, man, were we ever glad I did.  You heard it here first: THIS is the drink of Summer '16.  Wine slushies infused with fresh fruit?  Come on.
The RG recipe is great, but you can really take this in any direction depending on your wine preferences.  For a summer cocktail party, make 2-3 pitchers of different wine slushies.  A few ideas:
rose with raspberries (the OG per RG)
sauvignon blanc with fresh peaches
riesling with pears
(Serve in tumblers, garnished with mint. You will look like a total pro.  No one will be disappointed.)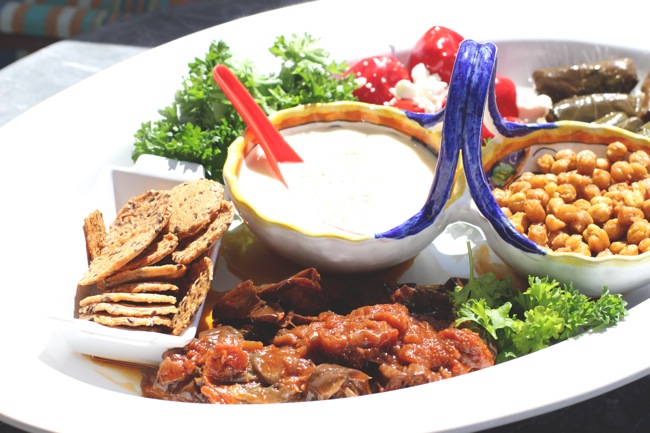 #2: Go to Trader Joe's.  Nuff said.
Trader Joe is basically the godfather of all party hacks.  That aisle, with the canned stuff?  There are, like, a hundred cocktail party ideas hiding in that aisle.  And most of them are pantry-stable.
Presentation is everything.  My go-to: get a pretty plate and stage a Mediterranean platter with hummus, canned dolmas (rice in grape leaves), kalamata olives, small rice crackers for dipping, sundried tomatoes, and strips of roasted eggplant.
(If you want to serve something more substantial, my sister's Trader Joe's party go-to is a giant salad of their pre-cooked lentils tossed with tomatoes, cucumbers, feta, and parsley.  It takes all of five minutes to throw together and looks so summery.)
The good news: you can buy most of this stuff today and just keep it around for the next time your best friend calls and says, "You know, I could totally go for a glass of wine slushy and some good company while the kids tear the house apart."  (What? It could happen…)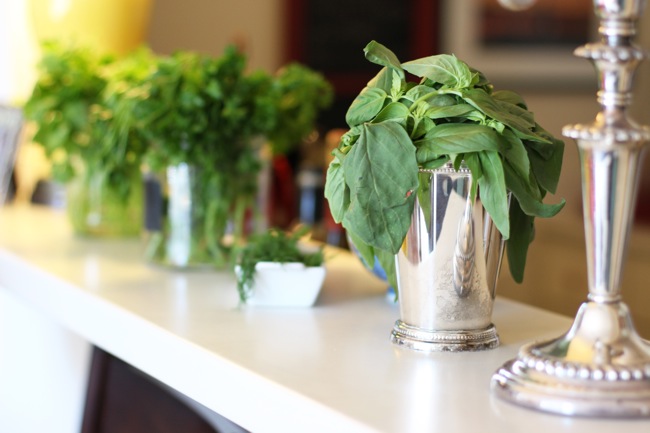 #3: Fresh Herbs for the Win
I always have a bunch of something in my fridge.  Parsley, cilantro, basil, mint…whatever.  The other day, in a pinch for a centerpiece, I popped some leftover herbs into mason jars and scattered them around the tabletop.  (You can also use the herbs to fancy-up your TJ's platter, above.)
#4: Quick Dips
Do you have kids?  If so, then you probably have baby carrots and some crackers around.  All that's missing is dips.  A few (non-hummus) favorites:
#5: Gourmet Hacks
I have three back-pocket "recipes" that elevate the cocktail party table.
Sausage chunks, browned on the stovetop and served with toothpicks and mustard
Peppadew peppers stuffed with feta cheese cubes
Roasted chickpeas (the garlic-parmesan is great if you have the goods, but even a sprinkling of cumin, cayenne and garlic salt will do the trick for an addictive snack)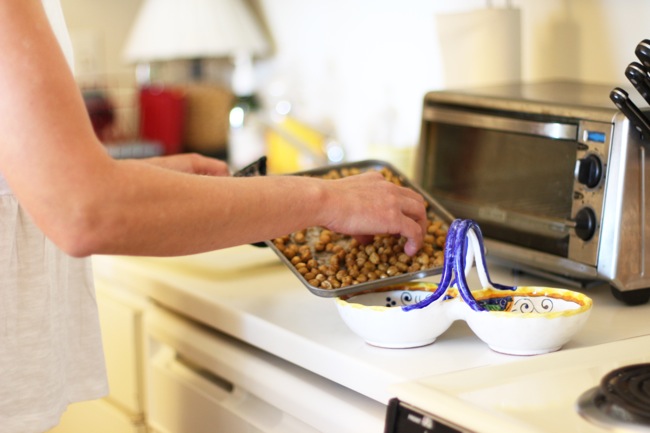 This morning I got up and went for a walk around 5am.  It was gloomy and drizzly, San Francisco at her July finest.  But as I turned the corner at the halfway point, the clouds began to break into wispy  swirls, and the sky beyond glowed with pink sunlight.  I hope your weekends are full of warmth and light.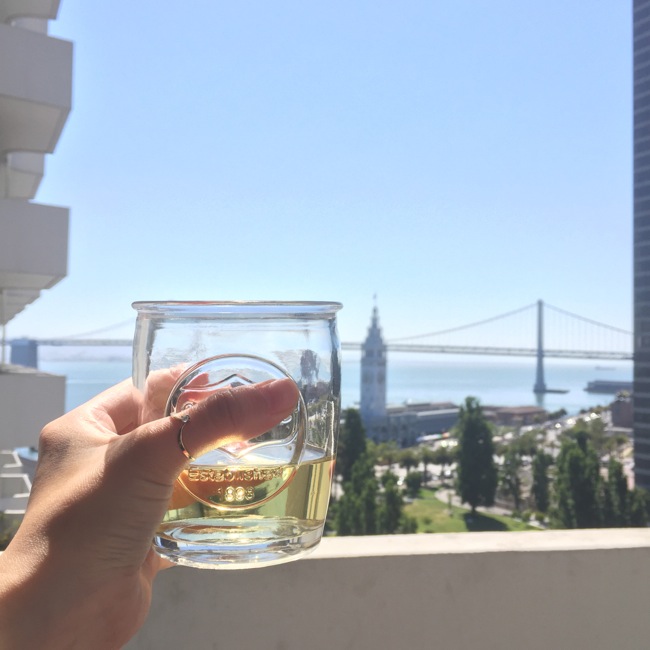 Photos by Lauren Hemmingsen