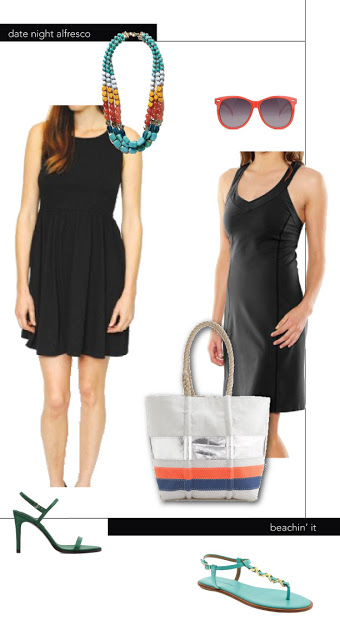 Board Design by Jess Davis, The Eagle's Nest
Lest anyone ever accuse me of getting too maudlin, let me assure you that mere hours after I published my previous post I found myself trying to change Babygirl's diaper, and she was playing a rollicking game of "Oh, Hell, No You Don't!", and there were wipes everywhere and there was diaper cream on my face and I threw up my hands and said (perhaps a little too loudly):
"OH MY GOD I AM NOT SURE I CAN HANDLE THIS!"
And then I screamed "Aaaargh!!!!"
Which started everyone crying.  And then my husband walked in from the office.
So there is no such thing as a perfect day.
There is, however, a perfect black dress and it is Out There Somewhere.  So, in deference to my journalistic obligations as a contributing fashion editor to The Eagle's Nest, I felt compelled to search for it this summer.
Read on, Readah (click here).