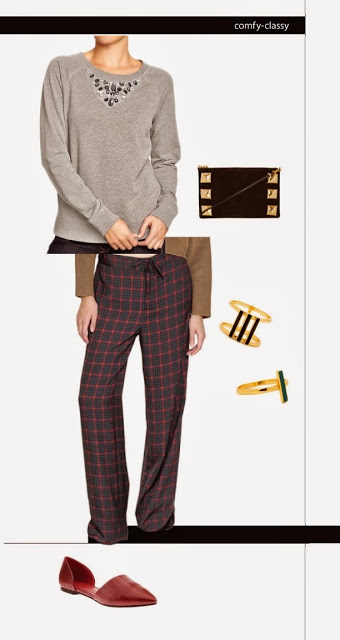 Style board from The Eagle's Nest (Jess Davis)
Lately I am making a daily read of Damsel in Dior.  The posts are pretty to look at and easy to digest; the clothes are generally affordable (despite the Damsel's penchant for crazy handbags), and it's a nice bit of escapism to read style tips from a gal who does not face the same daily fashion hurdles I do (i.e. chocolate-covered fingerprints on silk shirtdresses or trouser hems dragging in muddy soccer fields).  I give her dubious credit for this summer's perhaps frivolous — but very fun! — ankle-strap peep-toe spree (you can see some of the obsessions played out if you follow  me on Pinterest).
In a similar fit of ill-advised Fashion Week inspiration, I set out combing the web one morning for some gorgeous red suede and tan leather stilettos I'd seen in Vogue.  Let me stress how deeeeeeeeply impractical such a purchase would be.  Mercifully, the ones I landed on (again, Pinterest) were unavailable in my size across the country, so I shook it off and moved on to flats. (I wouldn't want to see myself coming and going anyway.)
Red pointy-toe flats keep finding their way back into my wardrobe.  I'll wear through a sole, scuff up a toe, purge, and invariably replace with a slightly new twist.  The Chinese Laundry flats featured here are this season's incarnation, and I cannot wait to slip them on.  You can read the full outfit rundown on The Eagle's Nest this week.