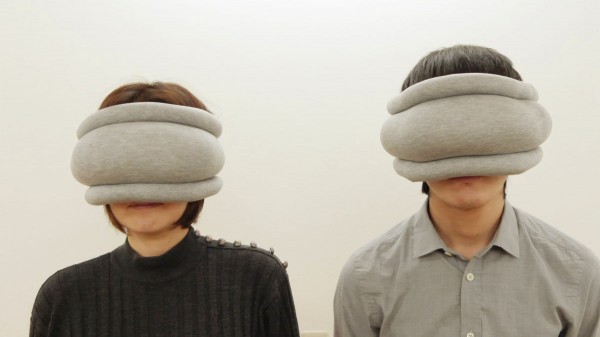 Is it okay if I just hide in one of these for a while?
One year ago this week, I sat next to my mother on a flight to London.  We were both wearing Ostrich Pillows — these lovely squishy turbans that double as eye-masks — that she'd picked up at one of those hipster-y travel stores, along with wildly unstylish flat, stretchy slippers.  Every time we made eye contact in we collapsed laughing at ourselves.  Then the lights went down and she slept, which she can do — seriously, anywhere — and I watched about fifteen movies, paced the aisles, and cursed that the eye mask caused all my fake lashes to fall out before we'd even crossed the Atlantic.  Because I can't sleep, ever, unless I'm actually lying on a bed and it's actually dark outside.  (In this way I am like LittleMan.  So maybe I should cut him some slack.)
Today: literally, exactly one year later, I am sitting next to my mother in the chemotherapy clinic in the Divisadero Campus of UCSF.  She is wearing a turban of her own design, a vibrant pink-and-orange paisley scarf wound around her head, and gold suede boots — boots we bought on that London trip, from a culty little shoe store off Grovesnor Square that sucked us in and wouldn't let us go until we'd left with no fewer than five pairs of shoes between us.
We shop together.  (We also work together.  But most days, if we had our druthers, we'd be shopping.)  In fact, in that spirit, she's rocking some headphones I found on ModCloth for the occasion of her cancer treatments, and she's wrapped as only my mom can be in a blanket and an oversized scarf and a sweater she pulled from her Mary Poppins handbag, along with some butter-rum flavored Life Savers.
She's sleeping.
Life Savers.
***
Here is the good news:
The tumors are shrinking.  Fast.  We are on Treatment #8 of a clinical trial and these growths are fleeing in fear, responding in ways that make the doctors positively giddy.
The doctor and the whole treatment team are the Loveliest People on the Planet, and in fact, this chemotherapy clinic is a pretty darned nice place to be.  There's valet parking!  The food in the cafeteria is healthy and fresh, and mom has eaten more today than I have seen her eat all week.  Also, she tells me the gift shop is tops.  We will likely shop there before we leave.  I'm just sayin'.  When in doubt, retail.
We are laughing.  We are laughing.  We just realized we can see our office, high on the hill, from the picture windows here and our colleagues are coming out to the roof to wave at us.  We text them to say Yes, we can see you — even cancer can't keep us away!  They text back, I bet she's dancing down there!
For the record, gold suede boots notwithstanding, my mother is not dancing.  But she is in good spirits, such as she can be when her body is being napalmed on a weekly basis.  She still works two days a week, and more incredibly, she is as humorous and empathetic as ever.  She is becoming known to the staff here, for her style and her open heart.  I cannot speak for what's in her mind, but she certainly seems far more positive, and less quiet and frustrated, than I do that this is happening to an indefatigable human who is needed and loved by legions of people.
Which brings us to the bad news:
My mom has cancer.
My husband doesn't like it when I curse on the blog, because he thinks it sounds affected and not like me, but can I say something very real?
Screw.  This.
***
Babygirl was reading one of her little primers the other day, a story about rabbits called "My Family".
My sister likes to sing.  My daddy likes to jog.  My grandma likes to rest.  
"My Nana likes to rest too!" exclaimed Babygirl, pausing in this riveting narrative.  She nodded knowingly.  "This family is a lot like mine."  Later she drew a picture of Nana and Papa.  They were both bald.
Do you laugh, or do you cry?  Do you just say: Yep, you got it right?
It's amazing how you can get used to the idea of something.  My mom has cancer.  My Nana has no hair, and she likes to rest, now more than ever.
I don't really want to get used to the idea of the cancer.  That's the truth.  I'm willing to live with it, live through it, for now.  But I don't want to let it into our lives in any kind of "new normal" sense.  I don't really want to shop at the hospital gift store (although, let's face it: I will probably find a way to purchase a sweater or something).  I don't really want to make the miracle broth with all the magnesium and magic in it.  No: I want to do what we talked about, on our joyful, tired trans-Atlantic flight home last year.  I want to go back to London with two empty suitcases (or three — let's drag my sister along!) and go back to that shoe store and buy the boots with the neon green lining.  I want to walk in Hyde Park and wander up Brompton Road and talk about everything except white blood cells or rashes or dizzy spells.
***
Here is some more good news:
We will.  (I don't know this, but I believe it.)
This is a really rough chapter, but it doesn't define us, and it doesn't define our future.
My mom is who she is.  She has this amazing spirit.  She is not wasting any of the precious energy she has on wishing for something different.
Instead she is taking what life is offering: time to rest, and to make friends, and to enjoy a grilled-cheese-and-tomato sandwich while she listens to classical music under a warm blanket.  She is accepting the bottomless kindness of the people around her — and what a wonderful thing it is to see that kindness!  In this world, at this time!
She is admitting (and if my observations are correct it's taken her a lifetime to admit this!) that she doesn't have to be all things to all people all the time.  She is saying no a little bit more.
She is still talking about those empty suitcases.
Someone asked me yesterday if I'm WORRIED.  I answered honestly: I'm not.  Like my dad, like my mom, like the doctors: I feel really, really good about how she's doing, how the treatment is progressing, and that the outcome of this will be a positive one.  And trust me: when you hang out in the cancer center for a day, even when mom has a stubborn cough, it puts that confidence in major perspective.
So for now: a litre of fluid.  A dose of the chemo (which, I now know, is four doses of various things with long names).  Three doses of something else that will bring the white blood cells up and kick the cough.
A little better every day.